Several product liability lawsuits have been filed by patients who suffered a life-threatening adverse reaction after taking the anti-asthma drug Xolair. Plaintiffs allege in their suits that Novartis International AG and Genentech Inc. failed to provide adequate warnings about the medication's potentially lethal effects, including strokes, heart attacks, cancer, and anaphylaxis.
Medication Type: Anti-asthma
Injury:  Anaphylaxis, strokes, heart attacks.
Manufacturer: Sanofi-Aventis
Total Cases: Undetermined
Settlement Amounts: EST – $400,000 over $1,000,000
Bellwether Trial Start Date:      Unknown
What is Xolair and how it works?
Xolair (omalizumab) is a humanized monoclonal antibody manufactured and co-marketed by Genentech, Inc. (a U.S. subsidiary of Roche)in cooperation with Novartis Pharmaceuticals Corp.The U.S. Food and Drug Administration (FDA) approved this drug in 2003 for the treatment of asthma in patients unresponsive to standard therapies with inhaled corticosteroids. In 2014, it also received approval for an additional indication: the treatment of hives of unknown origin (chronic idiopathic urticaria). Omalizumab can only be used in subjects of 12 years of age or more.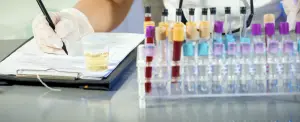 This antibody is produced by extracting Chinese hamster ovary (CHO) cells which are then cultured and replicated with modern technologies in giant bioreactors. It acts by blocking the action of the human immunoglobulin E (IgE) by binding to it and then causing its depletion. When an allergic individual comes in contact with any substance to which he is sensitized (including dust mites, peanuts, pollen or insect stings), a large quantity of IgE molecules is released in the bloodstream. Immune system cells such as basophils and mast cells will then release their own mediators (leukotrienes, histamine, cytokines, and others) that cause the symptoms commonly associated with allergy (sneezing, cramps, skin rashes, difficulty breathing, etc.). Xolair stops these reactions by stabilizing mast cells and is even able to reduce their intensity and frequency with repeated treatment.
Anaphylaxis – a lethal adverse reaction
Xolair's most dangerous side effect is a fatal, yet uncommon, systemic allergic reaction called anaphylaxis. Since this medicine is still a protein, the human body can, in fact, still perceive it as an "antigen," regardless of whether it is used to treat other lesser severe allergies. This reaction is often delayed by up to 24 hours after administration, and it usually occurs only after the patient has been safely injected with the antibody for years. In 2007, the FDA required the manufacturer to change the prescription's label and include an additional warning about delayed anaphylaxis and a risk of severe hypersensitivity.
Strokes and Heart attacks
In 2004, Genentech and Novartis started a post-marketing trial named EXCELS. Over 8,000 patients were observed for 5 years to assess the medication's effectiveness and safety, but the results were unsettling. Researchers found a higher incidence of serious cardiovascular and cerebrovascular side effects, including blood clots, pulmonary hypertension, transient ischemic attacks (TIA), heart attacks and strokes. In 2014 the U.S. regulatory agency requested the pharmaceutical company to add a second warning about the risk of cardiovascular issues. The FDA also warned patients and doctors that Xolair may damage the blood vessels supplying the brain. 
A possible risk of cancer
Xolair blocks the action of IgE immunoglobulins, whose secondary role is to help the immune system fight off and eradicate cancer cells growth. Data collected in the original 2003 trials found that patients who took this medication had a 0.5% risk of developing cancer compared to 0.2% of those who were not treated. The EXCELS study did not confirm this risk, however, but it should be noted that many malignancies may require a longer time to develop than the 5 years during wich the subjects were observed. The FDA did, in fact, order a label update to warn the public about a chance of developing cancer during treatment with omalizumab.
Churg-Strauss syndrome
Churg-Strauss syndrome is a rare autoimmune inflammatory disease that affects blood vessels. A retrospective study published in 2009 found a small risk of developing this systemic vasculitis in subjects treated with Xolair who suffered from other asymptomatic eosinophilic disorders. The antibody could, in fact, trigger a reaction that causes their disease to reach a full-blown state as soon as they stop taking corticosteroids. Omalizumab is often used to taper down treatment with steroids to avoid withdrawal symptoms.
Potential side effects of Xolair
Transient ischemic attack (TIA)
Stroke
Blood clots
Heart attack
Unexpected chest pain
Pulmonary hypertension
Anaphylaxis
Cancer
Churg-Strauss syndrome
Vasculitis
Unstable angina
The Xolair pharmaceutical fraud discovered by whistleblowers
In 2006, three former employees of Genentech and Novartis, Allison Kelly, Stephen Fauci, and Frank Garcia, decided to become whistleblowers and report a vast pharmaceutical fraud. The two drugmakers did, in fact illegally marketed Xolair by providing kickbacks to pharmacists, doctors, and other healthcare providers. According to the plaintiffs' claim, after the FDA did not approve omalizumab for the wide range of indications that the Big Pharma expected, Novartis started advertising the medication for many off-label prescriptions. Although the antibody showed a risk of anaphylaxis, pharmaceutical reps were instructed to encourage its use for the treatment of peanuts' allergy even in children under the age of 12. Physicians prescribing it were bribed with luxurious trips, expensive gifts, and free medical equipment. Plaintiffs also claim that Novartis convinced many healthcare providers to upcode the medication, causing federal government programs as Medicaid and Medicare to pay higher prices to buy the drug.
Later, the drugmaker even started a new clinical trial, called TIGER, in the Leiden University Medical Center, to investigate the effectiveness of Xolair in treating arthritis. However, in August 2013 the research was stopped after the senior Dutch scientist who led the trial was accused, and later found guilty of research fraud. Thanks to its unscrupulous marketing tactics, Novartis was able to collect about $2 billion in sales since its innovative monoclonal antibody was launched. The company never cared about the patient's safety, and court documents even allege that fraud was probable. Filing a Xolair lawsuit may be the only way to seek restitution for all the damage you suffered and pay your medical expenses. If you experienced any injury during treatment with this drug, you should contact an attorney immediately.
Article written by Dr. Claudio Butticè, Pharm.D.